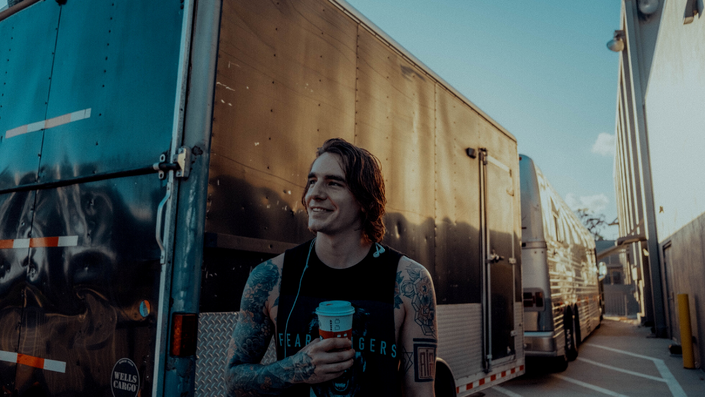 WORK FROM THE TOUR BUS
A program to help you start or grow your business within the music industry.
Life's too short to let an employer dictate when you can go on tour, get into the studio or even go the f*ck home. It's time to start making money doing what you love.

For most musicians and creatives, our dream is to be able to wake up every day and simply…create.
To have the freedom to design our days in the way that we choose and earn a living doing what lights us up.
But for a decade of my life, I commuted for hours to and from work on a cold train, wishing I was back in bed, could work from home, or better still, on the other side of the world on tour. I remember dreading that groundhog day feeling of sitting at a desk for eight hours thinking to myself, "I did go home to sleep last night, right?"
Can you relate to this?
I know all too well that feeling of being held back by a job you're not passionate about. A job that dictates the hours you work, the time you can take off and even, what you can wear! Sometimes it feels like you're living a double life.
As creatives, working too long in positions where we are under-stimulated, under-valued (and likely under-paid) can eat away at motivation, creativity and self-worth overtime.
It's time to change all of that.
I bet you know the current job you have isn't a long-term thing. Maybe you're waiting for the day your band gets big so you can get the hell out of dodge?
Or maybe you're not a musician, but someone that wants to work or run their own business inside the music industry, but you aren't sure where to begin?
Over the past 18 months, I've been able to make money doing what I love and, in turn, transition my day job into a business that supports my musical aspirations.
Not only that, but through my biz I've been able to establish myself as a leader in my field, grow my network and – as an added bonus – lead more followers/fans/industry people to my band!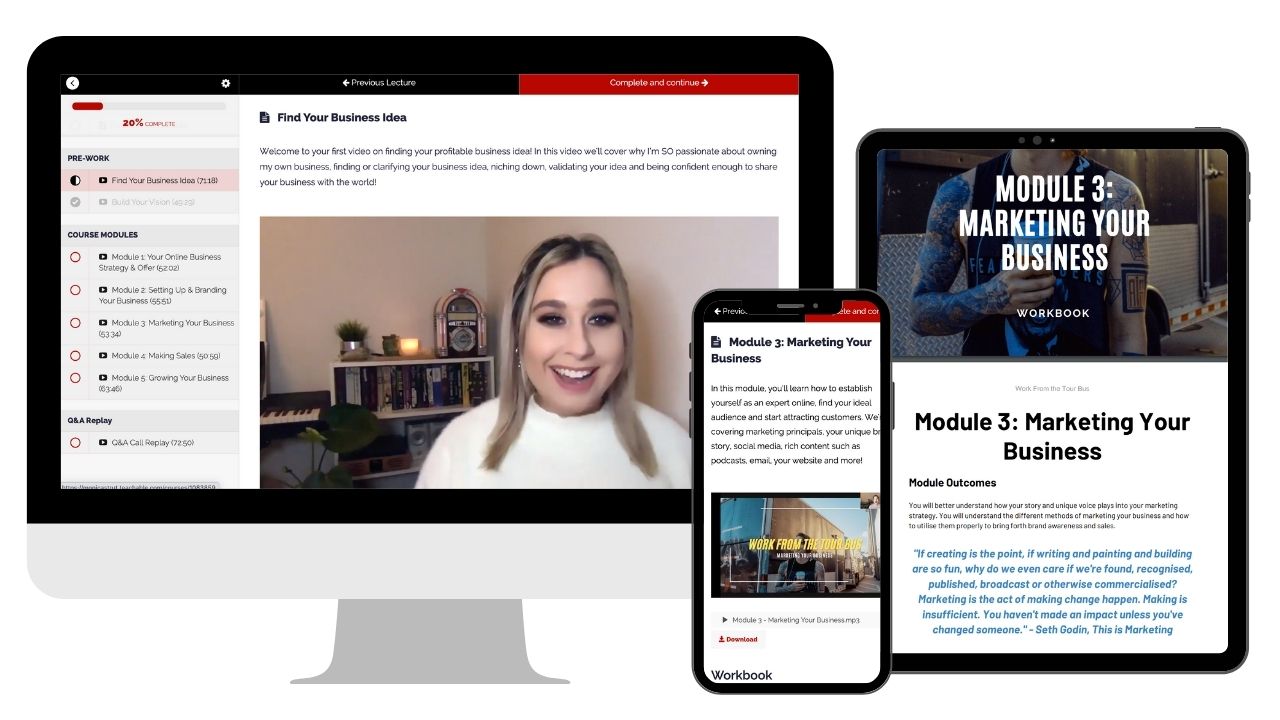 All course modules come with slides, workbooks and resources to help you take action straight away. They are also all timestamped to easily revisit information.
Introducing: "Work From the Tour Bus"
This is a 5-week online course and group coaching program for any musician or business within the music industry who is ready to start building their own online empire!
Each week you'll get a masterclass on a different topic from designing the business and life you want to how to set up your business, market yorself and grow well into the future.
Why hire a business coach? Well, I've been where you are before and can get you to your goals a hell of a lot faster than if you were doing it on your own! Plus, myself and the group can help inspire and keep you motivated and accountable so you can maximise your success.
What you get:
2x Pre-Work Modules

to help you find your business idea and build the vision of the business and live you want to create.




5x Course Modules to help you set-up, brand, market, make sales and grow your business.


1x 60 min private Zoom Call: Where we can dive deeper into your biz and any questions you have to use anytime within 3 months from course purchase (this can also be broken into 2x 30 minute calls).


Bonus: Q&A Replay from the live round - so you can learn from the questions other's have asked, that you may not have thought of.


VIP Option - Private Voxer access for 6x weeks: I'll be available for daily support via messaging/voice note platform Voxer as you complete each of the modules. I can be with you each step of the way as you complete the course for questions and feedback! This begins as soon as you enrol!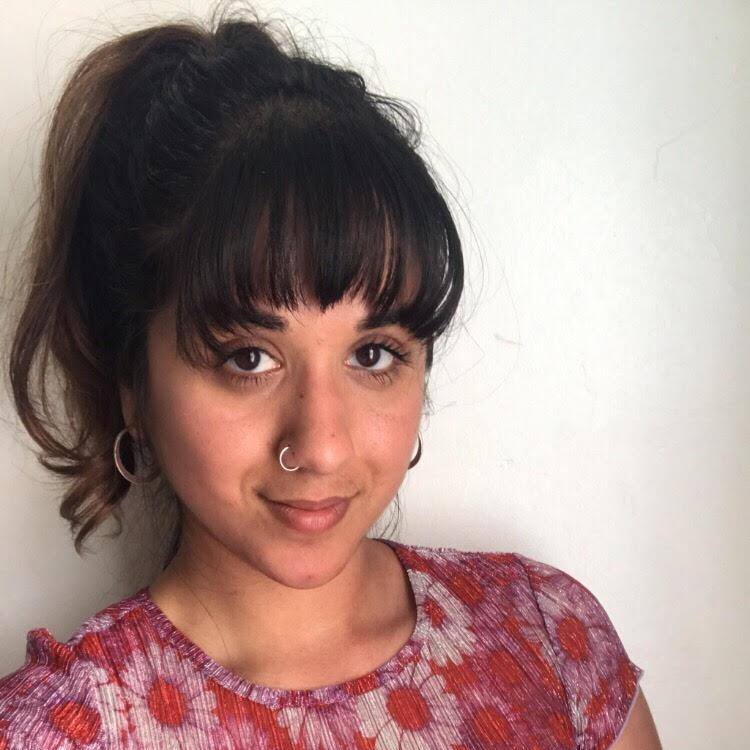 "Monica had truly come in the right time for me, and there was nothing better at the time than finding the Working From The Tour Bus course. As a professional in the music industry, I had been a bit unclear the past few months as to what my exact vision and purpose is towards working in the industry. I knew that I had all the info and knowledge required, but I wasn't sure exactly how to take that next step in order to reach the right people who may be in need of my help.
After taking Monica's course, my vision became so much more crystal clear and my longing to help musicians has expanded to greater lengths.
Each module was thorough, concise and well explained and she is wonderful at answering any questions we had. I highly recommend having Monica as your coach or enrolling in the Working From The Tour Bus course. You will learn a lot and everything that you weren't exactly sure about will become so much more defined."

- Isha Howard, Holistic Music Marketing Coach
Course Modules
👉 Bonus Pre-Work: Finding Your Business Idea + Creating Your Vision for Business & Life – Two bonus videos to help you find your business idea (or expand on the one you currently have). It's also important that before you have a clear vision of not only how you want that business to look, but how you want your life to look around it. You have to start at the end – there's no use building towards something you don't even really want!
👉 Module One: Your Simple Business Strategy + Creating Your Offer – This module will cover the simply business strategy I used to grow my personal brand and attract clients. We'll cover the different ways to make money online and help you clarify what you are selling and to whom.
Even if you know what your business will do, this module will help you diversify your income and make passive income for more financial stability. FYI – I made more money during COVID than any other time in my business due to the strategies I'll share with you!
👉 Module Two: Setting up + Branding Your Biz – You'll learn what tools and systems you'll need to set your business up (BTW it's actually less than what you may think). We will also determine your branding to attract your ideal customers to you.
👉 Module Three: Marketing Your Biz – You'll learn how to establish yourself as an expert online, find your ideal audience and start attracting customers. By the way, I'm a HUGE advocate for organic and content marketing i.e. free ways to get your name out there!
👉 Module Four: Making Sales – In this module, you will learn how to convert your followers into customers and how to make more sales in your business (without the sleaze).
👉 Module Five: Growing Your Business – I will teach you how to grow your business so you not only get more customers and make more money, but also have longevity. This will cover practical aspects as well as ensuring you have the mindset you need to run a successful business long-term.
PLUS! Q&A call where we can run through the ins and outs of your business to ensure you're set up for success!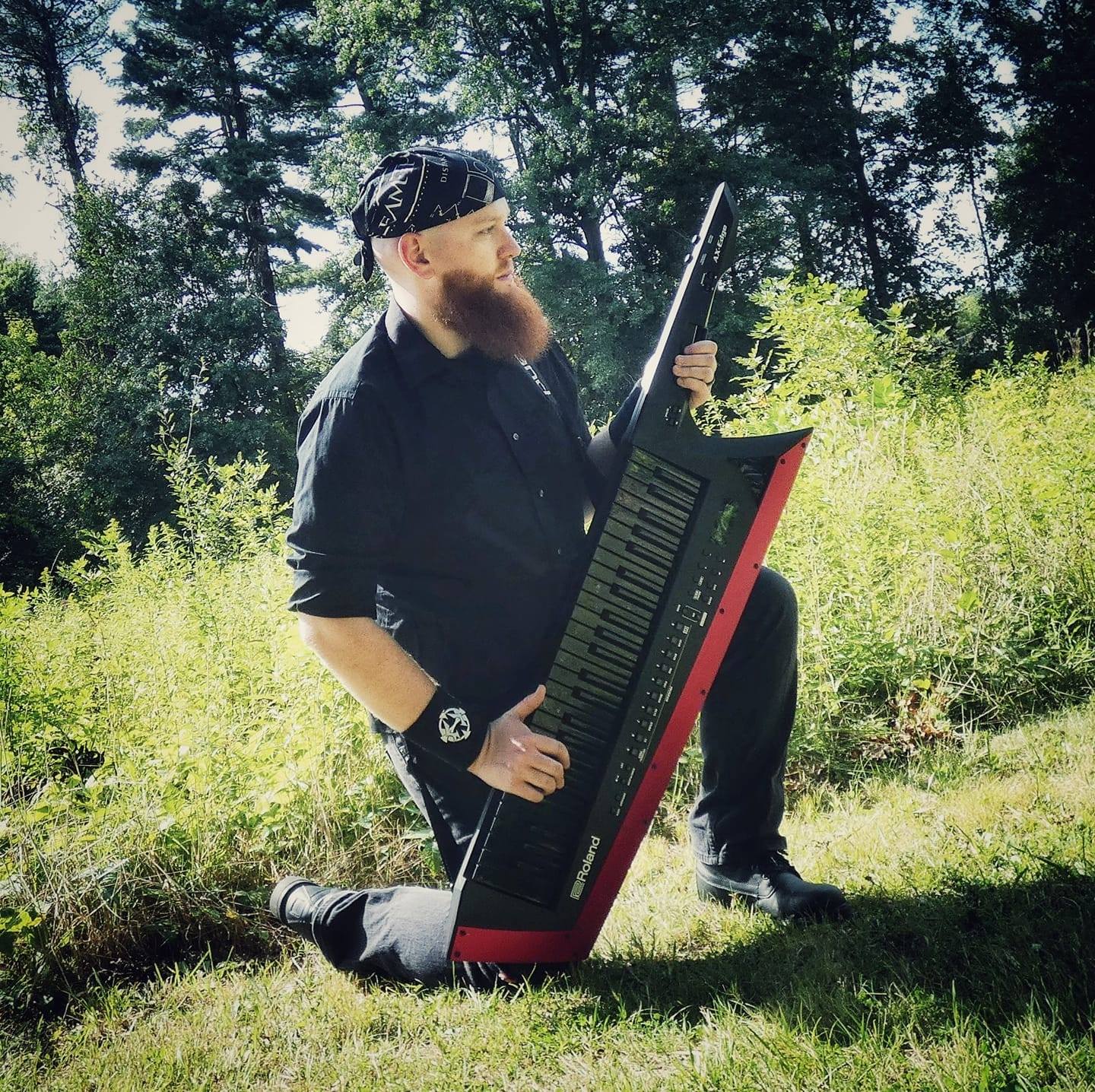 "I have nothing but great things to say about this course. I had gotten some gigs as a studio musician over the past year, but was unsure how to take it further and seriously pursue it as a full time occupation. Monica's course gave me direction, along with the framework I needed to formalize my business. It also empowered me to believe that my dream was attainable.
If you have a "side hustle" within the music industry that you want to turn into a full time endeavor, this course is highly recommended. Even if you have no idea what your business idea is, this course will help you realize it and give you everything you need to get off to a running start!
If you are in a band, you will find this course twice as helpful, as much of what you learn will also help grow your band."
- Sean OrcAdams, Session Musician
Course Curriculum
Start Here
Available in days
days after you enroll
Week 1: Discovery
Available in days
days after you enroll
Week 2: Your Online Business Strategy & Offer
Available in days
days after you enroll
Your Instructor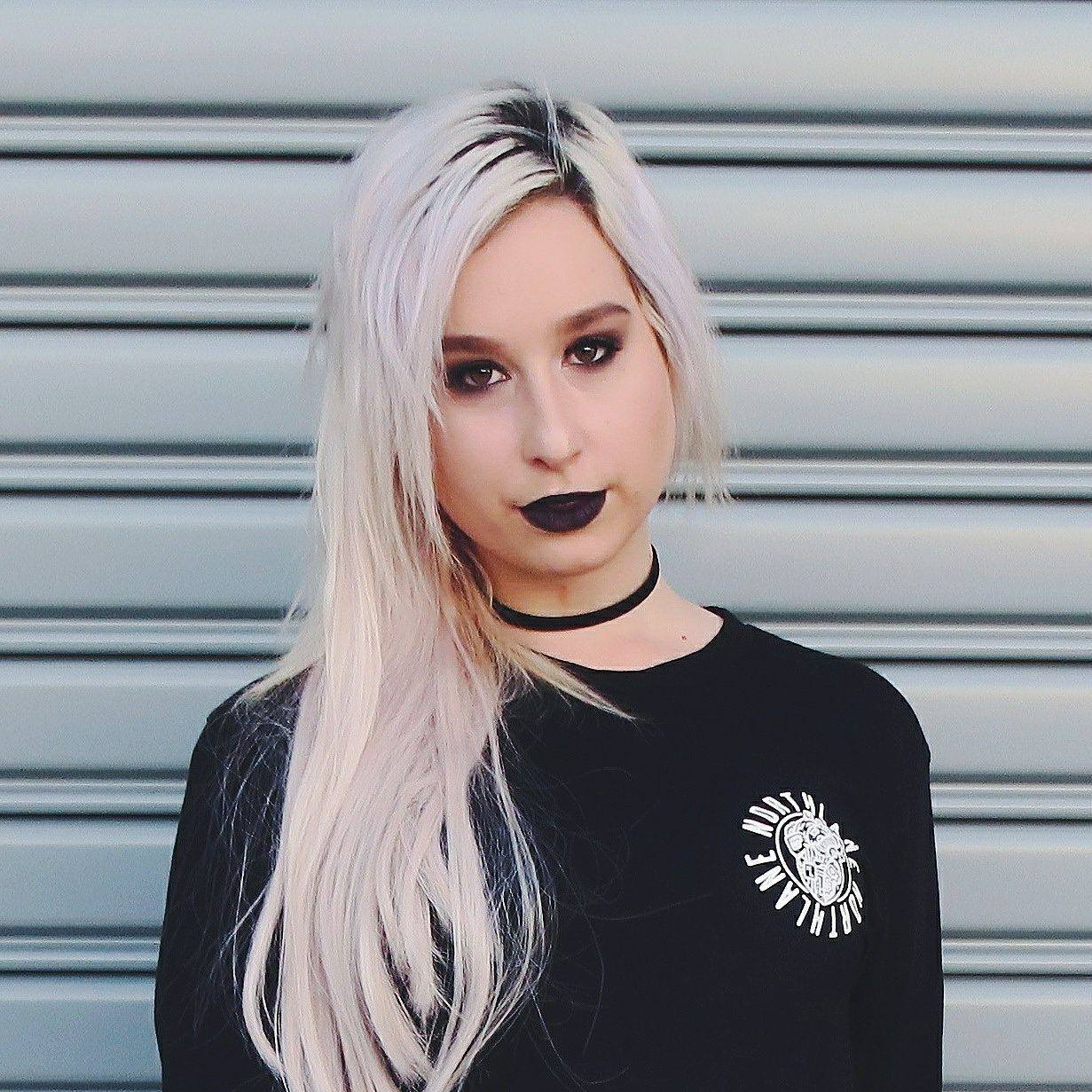 Hey, Legend! My name is Monica and I'm a professional Digital Marketer, Music Journalist and Artist Consultant. I have been a musician my entire life and for the past 6 years, a music journo and senior staff member of Australia's biggest alternative music magazines. My biggest passion is helping emerging bands with their promotional and business strategy to reach the next level in their careers.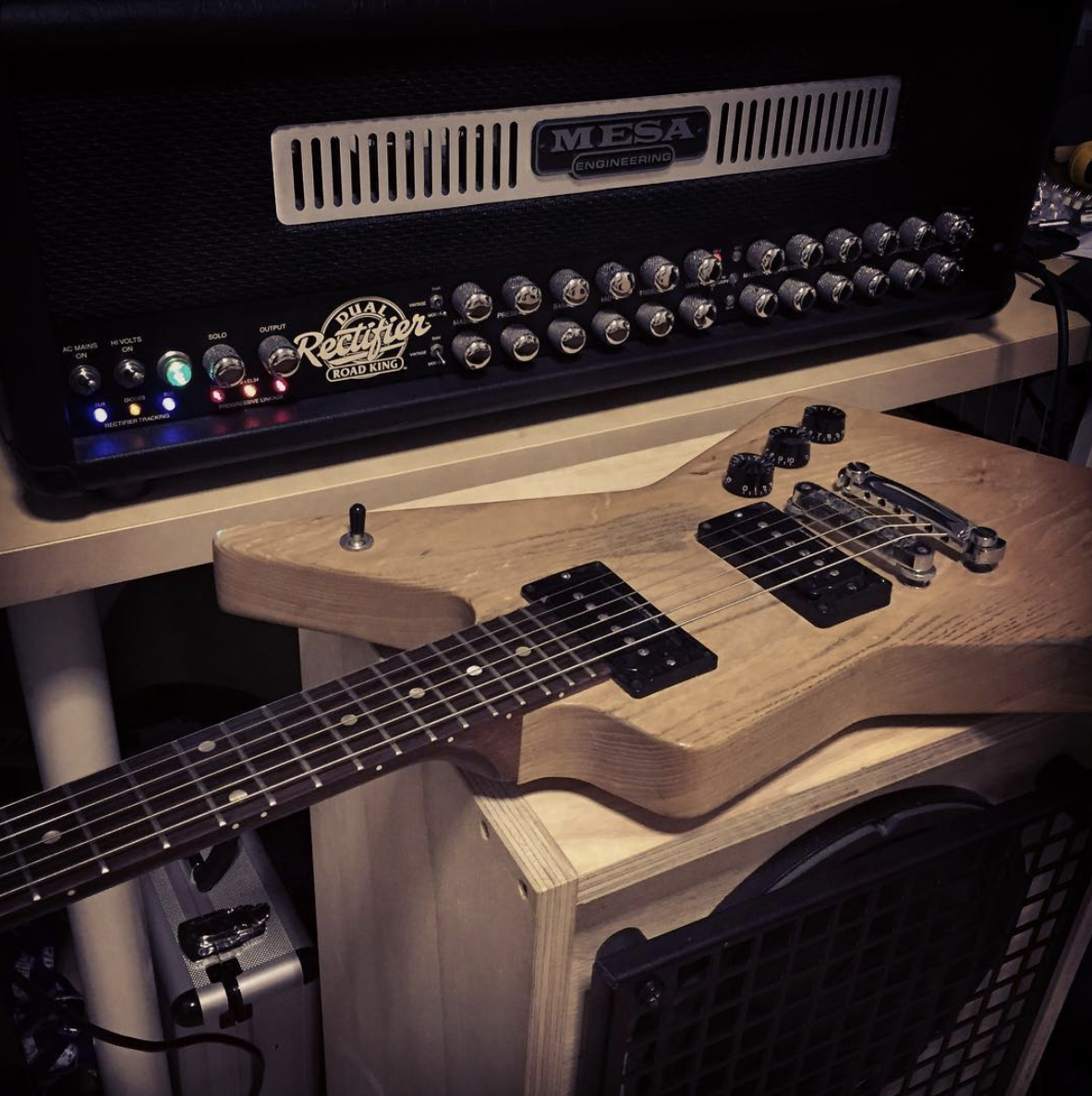 "I would highly recommend this course to someone wanting to start up their own business, especially if the idea is more creative and off the beaten path. I had a lot of fun working with Monica on the Work From The Tour Bus course!!! I was so happy to find someone who was business savvy, hardworking and so passionate about the heavy music scene.

Monica kept everything straight to the point and easy to understand, I have come away with a clear idea of how to structure, plan and get my business model started. I also feel more confident to proceed and execute my plans knowing that I have some of these tools in back pocket.

Monica is involved in the heavy music scene too so it was even more relevant for me than a standard style business course."

- Alex Duin, Dune Guitars, Melbourne
Frequently Asked Questions
When does the course start and finish?
The course starts as soon as you enrol! Once you sign up you'll get access to the pre-work + module 1 straight away. Over the following 5 weeks you'll be drip-fed 1x module per week. After all modules have been delivered, you'll have lifetime access to the course to revisit anytime!
How long do I have access to the course?
How does lifetime access sound? After enrolling, you have unlimited access to this course for as long as you like - across any and all devices you own.
What if I am unhappy with the course?
We would never want you to be unhappy! If you are unsatisfied with your purchase, contact us in the first 30 days and we will give you a full refund.
You and I both know it's a long way to the top if you want to rock n' roll. So why not create a business you can do from anywhere – the tour bus included!
This course is closed for enrollment.